Museums of MMV
Perhaps you can't visit all the MMV museums at once, so here they are by location. Some are in Melbourne itself, others you can reach in only an hour or two's drive. Or take a leisurely regional tour, and combine maritime heritage with the famous food, wine and attractions of Victoria's countryside.
Click on the individual museum links for up-to-date opening hours and details of attractions.
---
Melbourne: Williamstown
Both Seaworks and HMAS
Castlemaine
are located at the historic seaport of Williamstown, and a major exhibition on HMVS
Cerberus
is on display at Seaworks. (There is no access to the actual Cerberus wreck site at Black Rock.)

Seaworks provides berthing for tall ships visiting Melbourne and hosts maritime and community events. Museum displays include ship models, bells, diving equipment, navigation instruments, photos, prints and paintings. The Port of Melbourne has donated plaques, equipment, an Honour Board, and a collection of gifts. Seaworks has an extensive maritime library and is located on the historic Melbourne Harbour Trust site.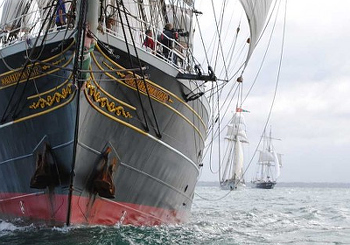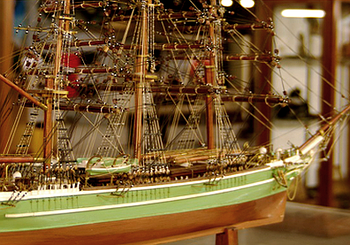 HMAS Castlemaine
is one of sixty Australian-built Bathurst Class corvettes to serve throughout World War II, and is the last such vessel still afloat, having been restored by volunteers over four decades. Exhibits and memorabilia show what life was like for crews of these vessels. The ship is located at Gem Pier in the heart of historic Williamstown, near the information centre, cafes, parks and heritage sites, very close to Seaworks Maritime Discovery Centre.
The HMVS Cerberus exhibition is on display at Seaworks.
Launched in 1868,
Cerberus
is the only remaining breastwork monitor class warship left in the world, and was the first armoured warship built for Australia. It has rested in three metres of water at Half Moon Bay since being scuttled to form a breakwater in 1926. Friends of the Cerberus Inc. is working with Heritage Victoria, the National Trust of Victoria and the City of Bayside to preserve
Cerberus
for future generations. (Entry onto
Cerberus
or being in the water immediately surrounding the vessel is prohibited.)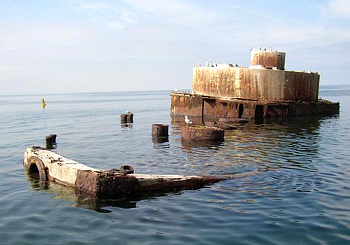 ---
Melbourne: Docklands

The Mission to Seafarers Victoria, first recorded in 1857, has operated since 1917 from the heritage-listed building at 717 Flinders St on the banks of the Yarra River. The Mission is highly regarded for its long service to those who live and work at sea. Open to visitors, the complex includes the Norla Dome, the Flying Angel club room and St Peter's Memorial Chapel and garden, and houses an archival collection of maritime and social history of State and National significance.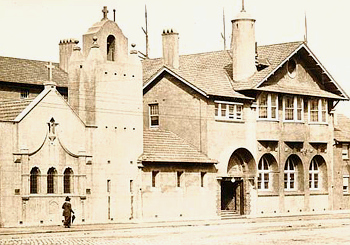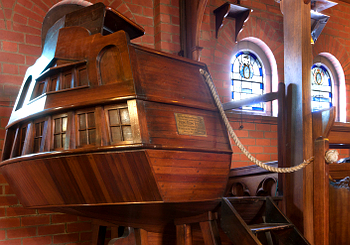 Polly Woodside
is a three-masted iron-hulled barque, built in Belfast in 1885. She carried coal, nitrate, and wheat between Britain and South America, then cargo in the New Zealand trade. She became a coal hulk in 1923, and was used as a service lighter in WWII in New Guinea. Restoration by the National Trust of Victoria began in 1962. The ship was refurbished with 60,000 hours of voluntary labour, and is an ongoing project. In 1988 the World Ship Trust recognised
Polly Woodside
with an award for "supreme achievement in the preservation of maritime heritage." The museum offers a history gallery, theatre, picnic wharf, shop, and children's activities.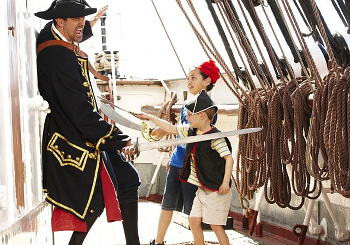 Wattle is one of the few remaining steam operated vessels in Australia. It was built for the Navy in 1933 at Cockatoo Island Dockyard, and operated until 1969. Wattle came to Melbourne in 1979 and in 1985 started doing charters and cruises around Portarlington. Since 2009 Wattle has been extensively restored by volunteers from the Bay Steamers Maritime Museum, with the plan of returning to steaming in early 2017. Wattle and the workshop is located at North Wharf, Docklands. Volunteers are there every Saturday, and welcome visitors and new volunteers.

---
---